 Donna shares her secrets on the
elusive "travelling sewing kit." This
applies to the tools that might be
used most often at a meeting
when the Sew Crazies are sewing.
A kit should have: fabric scissors,
thread scissors, assortment of
hand sewing needles, basic
threads (black, white, tan, red),
seam ripper, tape measure,
sewing gauge, assortment of
needles for your machine, 2-3
bobbins, tweezers, small
screwdrivers (flat and phillips) and
bandaids. A few misc. buttons,
chalk, a dime and nickle (for
buttonhole placement) are also
handy.

Mystery Solved: Travelling
Sewing Kit Revealed

Our Next Meeting
Saturday, November 18th
10 a.m. to 2 p.m.
atThe Rock Fellowship Church
3120 Browns Mill Road, Johnson City, TN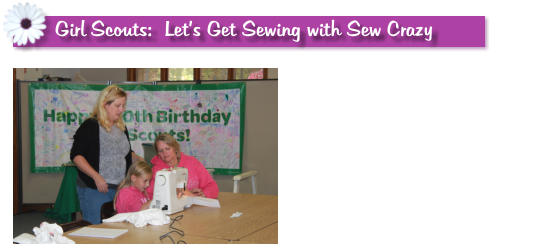 Girl Scouts! Are you or your troop looking for a
worthwhile community service project that you can
do, all the while learning a creative and fun skill?
Sew Crazy is looking for you!
Sew Crazy has helped Girl Scouts turn old t-
shirts into tote bags, an upcycling project that
resulted in sacks for their cookie sales. Other
beginning sewing projects may also be available
for your troop to try, depending on the age of
participants and purpose of the project.
Let Sew Crazy help you get started. Contact
Donna Horowitz, director and sewing instructor,
for more information. Phone (423) 434-0424 or e-
mail info@sew-crazy.org.

Don't forget Sew Crazy's ongoing
projects -- the 6x6 squares for
Nicaraqua and fabric scraps for the
dog beds.

Where Sewists of All Ages, Interests and Skill Levels are Welcome!

Need a little autumn inspiration or
longing for a leaf peeping tour? The
views around Biltmore House in
Asheville, NC are amazing year
round, but imagine the incredible
color show from the roof. Rooftop
tours are available daily, but advance
reservations are required.

As part of the annual Fall Fibers Show
and Colonial Harvest Festival, a
workshop on wool felting will be held
at Sycamore Shoals State Historic Park
on Sat., Nov. 11 from 1 to 2:30 p.m.
Participants will choose a Snowman
or Nativitiy ornament.
For more information or to register,
please call the Park at 423-543-5808.
Cost is $12 for instruction and supplies.
Nancy Zieman, nationally known
sewing educator, author and tv
personality, has announced her
retirement due to serious health
issues. Our prayers and well
wishes are with her and her family.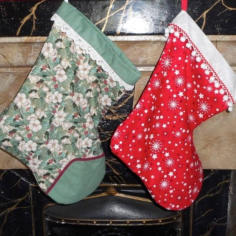 It's beginning to look a lot like
Christmas Stockings!
It's tradition for Sew Crazy to start their
Christmas project in the middle of summer,
and this year was no different.
The group started in June cutting and
stitching what will be 125 large and lovely
Christmas stockings which will be donated
to Dawn of Hope. Each stocking will be
filled with small gifts and goodies at the
December Christmas meeting, prior to
delivery in time for Christmas.
This is a big project for Sew Crazy, and any
and all help will be greatly appreciated. If
you would like to donate items or money to
buy items to fill the stockings, contact
Donna at info@sew-crazy.org or call her at
423-434-0424.
Cancer caps part of October project
Sew Crazy will be sewing cancer caps and
mastectomy aprons as part of its annual
observance of Breast Cancer Awareness Month.
The soft, colorful caps and aprons will be donated
to Holston Valley Cancer Center. Sew Crazy is
the only group in the area to sew the mastectomy
aprons.
Sewers completed over 40 caps and aprons
during this one-month project.