 Donna shares her secrets on the
elusive "travelling sewing kit." This
applies to the tools that might be
used most often at a meeting
when the Sew Crazies are sewing.
A kit should have: fabric scissors,
thread scissors, assortment of
hand sewing needles, basic
threads (black, white, tan, red),
seam ripper, tape measure,
sewing gauge, assortment of
needles for your machine, 2-3
bobbins, tweezers, small
screwdrivers (flat and phillips) and
bandaids. A few misc. buttons,
chalk, a dime and nickle (for
buttonhole placement) are also
handy.

Mystery Solved: Travelling
Sewing Kit Revealed

Our Next Meeting
Saturday, June 17th
10 a.m. to 2 p.m.
at Bethlehem Lutheran Church
201 E. Watauga Ave., Johnson City, TN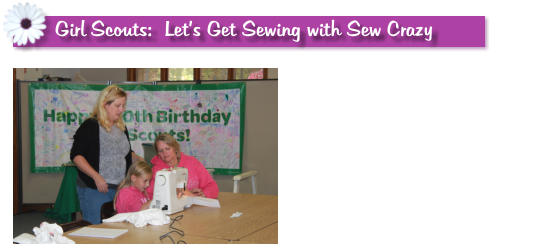 Girl Scouts! Are you or your troop looking for a
worthwhile community service project that you can
do, all the while learning a creative and fun skill?
Sew Crazy is looking for you!
Sew Crazy has helped Girl Scouts turn old t-
shirts into tote bags, an upcycling project that
resulted in sacks for their cookie sales. Other
beginning sewing projects may also be available
for your troop to try, depending on the age of
participants and purpose of the project.
Let Sew Crazy help you get started. Contact
Donna Horowitz, director and sewing instructor,
for more information. Phone (423) 434-0424 or e-
mail info@sew-crazy.org.

Don't forget Sew Crazy's ongoing
projects -- the 6x6 squares for
Nicaraqua and fabric scraps for the
dog beds.

Where Sewists of All Ages, Interests and Skill Levels are Welcome!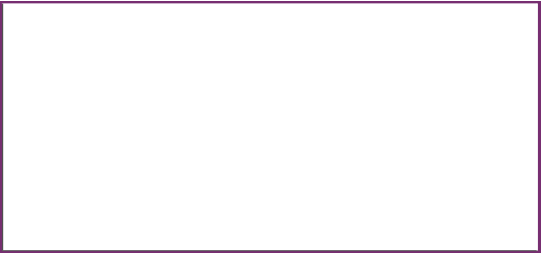 Girls Inc. can get creatively messy
The girls of Girls Inc. in Johnson City can
now be creative without worrying about
getting too mussed.
Sew Crazy delivered 121 aprons in sizes
for all the age girls served by Girls Inc.
They will use them for their cooking,
gardening, and other arts and crafts
projects. This was a two-month project for
Sew Crazy, and the sewers exceeded
their goal of 100 aprons.
Thanks for all the stitching Sew Crazies!

Biltmore in Asheville, NC has a new
exhibit open until July 4th called
"Designed for Drama: Fashion from
the Classics." It features more than
40 elaborate costumes from films
inspired by George Vanderbilt's
favorite literary works. See their
website for more.

Hand Quilting for Beginners
This class will concentrate on the art
of stitching a quilt by hand, practicing
stitching a straight line as well as a
curve. It will be held Saturday,
Sept. 30 from 9 a.m. to noon at
Sycamore Shoals State Historic Park
in Elizabethton. Cost is $25 for all
supplies. Register by calling
423-543-5808.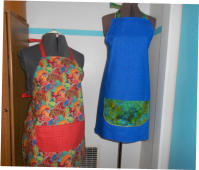 There's a free Christmas stocking
pattern and instructions for sewing on
NancysNotions.com. Click the tab
called Ideas & Advice and scroll
down until you see the Christmas
stocking picture. Check with Donna
before sewing it for the Dec. project.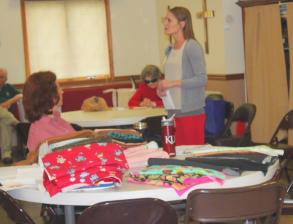 Sew Crazy sewers completed 42 shawls for the local hospice patients of CARIS. Above,
CARIS volunteer coordinator Hannah Bowers speaks to the group. At left are two
completed shawls.
Sewers complete shawl project for CARIS
Hospice patients were recipients of May donation