 Donna shares her secrets on the
elusive "travelling sewing kit." This
applies to the tools that might be
used most often at a meeting
when the Sew Crazies are sewing.
A kit should have: fabric scissors,
thread scissors, assortment of
hand sewing needles, basic
threads (black, white, tan, red),
seam ripper, tape measure,
sewing gauge, assortment of
needles for your machine, 2-3
bobbins, tweezers, small
screwdrivers (flat and phillips) and
bandaids. A few misc. buttons,
chalk, a dime and nickle (for
buttonhole placement) are also
handy.

Mystery Solved: Travelling
Sewing Kit Revealed

Our Next Meeting
Saturday, January 20th
10 a.m. to 2 p.m.
at Bethlehem Lutheran Church
201 E. Watauga Ave., Johnson City, TN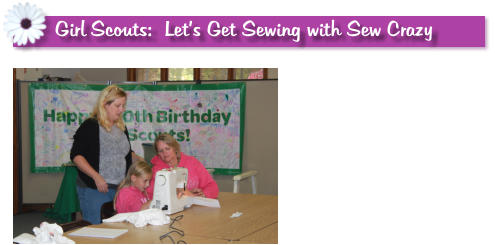 Girl Scouts! Are you or your troop looking for a
worthwhile community service project that you
can do, all the while learning a creative and fun
skill?
Sew Crazy is looking for you!
Sew Crazy has helped Girl Scouts turn old t-
shirts into tote bags, an upcycling project that
resulted in sacks for their cookie sales. Other
beginning sewing projects may also be available
for your troop to try, depending on the age of
participants and purpose of the project.
Let Sew Crazy help you get started. Contact
Donna Horowitz, director and sewing instructor,
for more information. Phone (423) 434-0424 or
e-mail
info@sew-crazy.org.

Don't forget Sew Crazy's ongoing
projects -- the 6x6 squares for
Nicaraqua and fabric scraps for the
dog beds.
Where Sewists of All Ages, Interests and Skill Levels are Welcome!


Fashions from the blockbuster movie
"Titanic" will be on display at the
Biltmore House from Feb. 9th to May
13th. More than 45 costumes will
grace the grand rooms of Biltmore.
The exhibit will be part of the regular
admission price.
To learn more, go to www.biltmore.com
and click on "events".
Join Donna and Scott for a fun day
making a quick Regency bonnet and
a hat box. The workshop will be held
at Sycamore Shoals State Historic
Park on Saturday, Jan. 27th from
10 a.m. to 3 p.m. Reservations must
be made in advance by calling the
park at (423) 543-5808.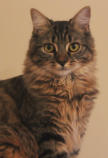 It's another episode of
Stitching with Stitches
Hi everyone! It's me, Stitches. Since this cold weather has me cooped
up inside -- my idea of course -- I thought I'd share some more of my
sewing insights with you humans.
In case you didn't know it, I'm a gadget girl. The more they roll or bounce
on the floor the better I like it. I know you humans don't find that feature
to be important, so I'll move on.
My human has a sewing machine gadget called a flower stitch foot. It's a
generic add on that you can use to make all kinds of circular designs, like
decorative circles, eyelets and flowers. You do have to buy the correct
one for your machine shank type. Based on the muttering done by my
human, it takes some practice to attach to your machine. Beyond that,
you're only limited by the stitches your machine will do, although you
really only need a zig zag stitch to use it.
The biggest design will be just over an inch in diameter. You get different
looks by varying the stitch size and type, and using decorative threads.
One item I've seen it used for are covered buttons -- adds a pretty touch -
- and they roll good too. You can also dress up a shirt cuff or collar point,
or even run a row of flowers down the front placket. Check out the how to
video on nancysnotions.com. There's also a bunch of videos on youtube.
While my human has fun with this flower stitch foot, I don't see it catching
on with cats. The thing just doesn't roll or bounce. Oh well, until next
time -- Stitches, the Sew Crazy Cat!
Backpacks to benefit disaster relief
It's another big project for Sew Crazy -- with all
the hurricanes, wildfires and other natural
disasters this past year we're taking on a project
for disaster relief.
The group began making drawstring backpacks
at the November meeting, and will continue to
the February meeting. The backpacks will be
filled with toiletry items and then donated to
UMCOR, to be distributed when the next need
arises.
Donations of toiletry items to fill the backpacks
are being sought. If you would like to know how
to help, please send an email to info@sew-
crazy.org or call Donna at (423) 434-0424.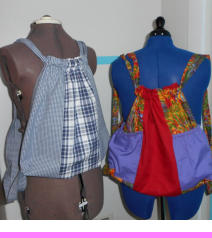 The Original Sewing and Quilt Expo
will be coming to Atlanta on March
8-10th, 2018. If you need a break
from winter, this is it. There's classes,
workshops, demos, stage shows and
more, plus SHOPPING! To check it
out, go to www.sewingexpo.com.

Stitches, the
Sew Crazy Cat