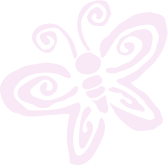 Donna shares her secrets on the
elusive "travelling sewing kit." This
applies to the tools that might be
used most often at a meeting
when the Sew Crazies are sewing.
A kit should have: fabric scissors,
thread scissors, assortment of
hand sewing needles, basic
threads (black, white, tan, red),
seam ripper, tape measure,
sewing gauge, assortment of
needles for your machine, 2-3
bobbins, tweezers, small
screwdrivers (flat and phillips) and
bandaids. A few misc. buttons,
chalk, a dime and nickle (for
buttonhole placement) are also
handy.

Mystery Solved: Travelling
Sewing Kit Revealed

Our Next Meeting
Saturday, October 20th
10 a.m. to 2 p.m.
at Bethlehem Lutheran Church
201 E. Watauga Ave., Johnson City, TN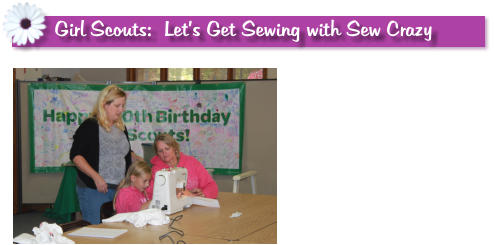 Girl Scouts! Are you or your troop looking for a
worthwhile community service project that you
can do, all the while learning a creative and fun
skill?
Sew Crazy is looking for you!
Sew Crazy has helped Girl Scouts turn old t-
shirts into tote bags, an upcycling project that
resulted in sacks for their cookie sales. Other
beginning sewing projects may also be available
for your troop to try, depending on the age of
participants and purpose of the project.
Let Sew Crazy help you get started. Contact
Donna Horowitz, director and sewing instructor,
for more information. Phone (423) 434-0424 or
e-mail
info@sew-crazy.org.

Don't forget Sew Crazy's ongoing
projects -- the 6x6 squares for
Nicaraqua and fabric scraps for the
dog beds.
Where Sewists of All Ages, Interests and Skill Levels are Welcome!

Mark your calendar for the Breast
Cancer Awareness month two-day
event to sew mastectomy aprons.
To be held Oct. 5th from 1-5 p.m. and
Oct. 6th from 1-4 p.m., the event will
be held at Fletcher's Homemade in
downtown Elizabethton. Sew Crazy
will provide pre-cut kits and snacks.
Help is needed in cutting kits, as well
as to be on hand to teach others this
simple project. Machines will be
available.
Spread the word!

Amazon shoppers can now get their
favorite deals and benefit Sew Crazy.
Start your Amazon shopping at
smile.amazon.com and choose Sew
Crazy of NE TN as your charity. A
percentage of your total will be
donated to Sew Crazy. You know you
are going to shop Amazon, so help
out Sew Crazy while you're at it!

Bears for 'Kids Like Us'
A bevy of beary adorable teddy bears made
their debut at the September Sew Crazy
meeting. Using the same simple pattern, but
with endless possibilities for fabric choices and
embellishments, no two bears were alike.
The bears will be rehomed to Kids Like Us, an
Elizabethton non-profit. Kids Like Us was
formed in 2017 and operates on donations of
funds and volunteer hours. This organization
provides a location where both children and
young adults can meet and have the
opportunity to connect with others for learning
and socializaing regardless of their
background, physical and mental abilities,
race, religion, etc.
Our bears, with their diversity in design/color, will be appreciated to help teach the
message that we are all really the same, just made differently.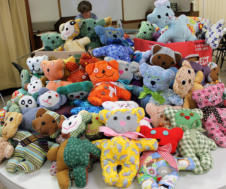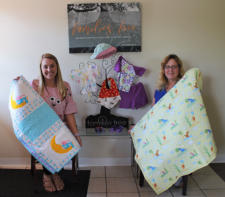 '
Woven' receives latest Sew Crazy project
Woven, a program to support women who have delivered
a drug-exposed baby, was the recepient of over 200
pieces of infant layette items as a result of the latest Sew
Crazy project completed.
Baby bibs, blankets, tees, hats, and kimono tops were
just a few of the pieces donated. Stephanie Elliot-Carr,
pictured at right with Donna, was on hand to receive the
donation.
Woven is part of the Families Free program serving
upper East Tennessee. The goal of Woven is to see
women restored into the mothers they were created to
be. They offer treatment services, case management
support as well as inhome parenting eduction to
accomplish this.