 Donna shares her secrets on the
elusive "travelling sewing kit." This
applies to the tools that might be
used most often at a meeting
when the Sew Crazies are sewing.
A kit should have: fabric scissors,
thread scissors, assortment of
hand sewing needles, basic
threads (black, white, tan, red),
seam ripper, tape measure,
sewing gauge, assortment of
needles for your machine, 2-3
bobbins, tweezers, small
screwdrivers (flat and phillips) and
bandaids. A few misc. buttons,
chalk, a dime and nickle (for
buttonhole placement) are also
handy.

Mystery Solved: Travelling
Sewing Kit Revealed

Our Next Meeting
Saturday, February 24th
10 a.m. to 2 p.m.
at Bethlehem Lutheran Church
201 E. Watauga Ave., Johnson City, TN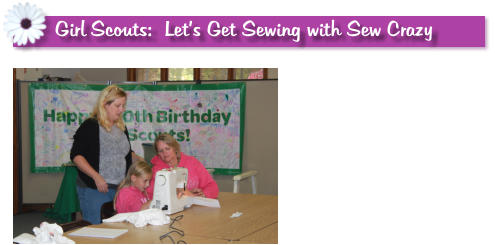 Girl Scouts! Are you or your troop looking for a
worthwhile community service project that you
can do, all the while learning a creative and fun
skill?
Sew Crazy is looking for you!
Sew Crazy has helped Girl Scouts turn old t-
shirts into tote bags, an upcycling project that
resulted in sacks for their cookie sales. Other
beginning sewing projects may also be available
for your troop to try, depending on the age of
participants and purpose of the project.
Let Sew Crazy help you get started. Contact
Donna Horowitz, director and sewing instructor,
for more information. Phone (423) 434-0424 or
e-mail
info@sew-crazy.org.

Don't forget Sew Crazy's ongoing
projects -- the 6x6 squares for
Nicaraqua and fabric scraps for the
dog beds.
Where Sewists of All Ages, Interests and Skill Levels are Welcome!


Fashions from the blockbuster movie
"Titanic" will be on display at the
Biltmore House from Feb. 9th to May
13th. More than 45 costumes will
grace the grand rooms of Biltmore.
The exhibit will be part of the regular
admission price.
To learn more, go to www.biltmore.com
and click on "events".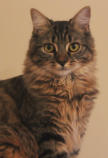 It's another episode of
Stitching with Stitches
Hello, fellow stitchers! I was strolling across my human's laptop the other
day when I found a site that listed the top sewing apps. Apps? For
sewing? Who knew? I guess there really is an app for everything.
It was entitled "10 Sewing Apps to Keep You in Stitches" -- and no, they
don't mean me.
From general sewing apps, to more specific ones such as for embroidery,
cross stitch or quilting, these are touted as some of the best and most
unique apps out there for sewers. Many of them are free, and others
have a small cost. They come for Android, or Apple, or both.
One of my favorite freebies is the Stash Star Fabric app. It's a fabric
organization app that lets you keep track of your stash. You can log in
your fabrics by names, images and more, so you'll always know what you
have and what you need -- and you'll know for certain when you're
standing at the cutting counter that this isn't the same fabric you bought a
couple of years ago. (Don't tell my human, but I think she'll need more
memory to log all her stash! Meow, I wish I had that much cat food!)
There's another free Android app called Sewing Pattern Buddy that lets
you log your patterns by garment type, fabric needed, pattern company
and more. Then when you find that perfect fabric on sale you can pull up
a pattern to make sure it's right.
That's my favorite two -- If you want to see all 10 apps, go to
www.allfreesewing.com. Appy Sewing, Everyone!
The Original Sewing and Quilt Expo
will be coming to Atlanta on March
8-10th, 2018. If you need a break
from winter, this is it. There's classes,
workshops, demos, stage shows and
more, plus SHOPPING! To check it
out, go to www.sewingexpo.com.

Stitches, the
Sew Crazy Cat
Amazon shoppers can now get their
favorite deals and benefit Sew Crazy.
Start your Amazon shopping at
smile.amazon.com and choose Sew
Crazy of NE TN as your charity. A
percentage of your total will be
donated to Sew Crazy. You know you
are going to shop Amazon, so help
out Sew Crazy while you're at it!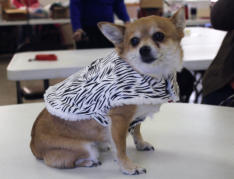 This Project Is For The Dogs
Not all the furbabies at the Carter County Animal
Shelter have a nice warm home and doting
humans -- yet. To help in that transition, Sew
Crazy will be making dog coats for those pets-in-
waiting as their March project.
They'll be plenty of fabrics and patterns
available. The coat pattern is simple and quick
to sew, and sewers are welcome to get creative
with trims to make them as adorable as possible.
This will be a one month project with turn in at
the March 24th meeting, so it's all paws on deck
to help out!