Our Next Meeting
Saturday, June 17th
10 a.m. to 2 p.m.
at Bethlehem Lutheran Church
201 E. Watauga Ave., Johnson City, TN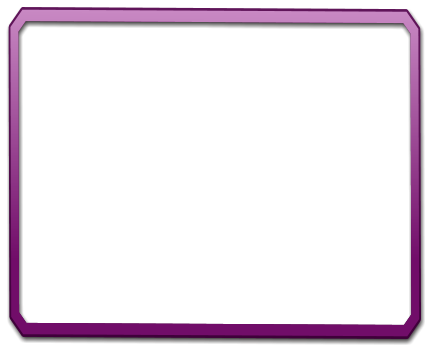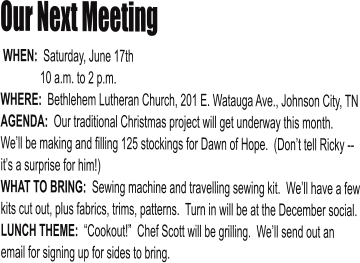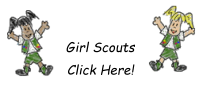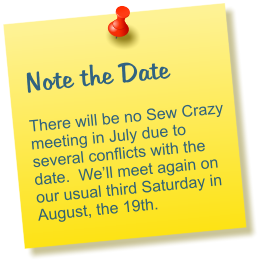 Tote bag project aids library program
Bags to help JCPL Friendly Visitor program
A Johnson City Public Library program called Friendly
Visitor will be the recipient of the latest Sew Crazy
project. Friendly Visitor takes books to homebound
readers, giving those who can't visit and browse
themselves a chance to enjoy the library. Celeste
Smedley with the Johnson City Public Library was on
hand to tell us about the program and answer any
questions.
Sew Crazy will be making a simple tote bag to help
library volunteers transport books. We'll use Simplicity
pattern 2164, with just a few changes, and utilize our
heavier weight fabrics to make them sturdy for books.
This is a one month project, so be sure to bring completed totes to the June meeting.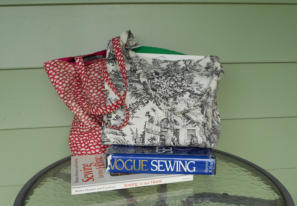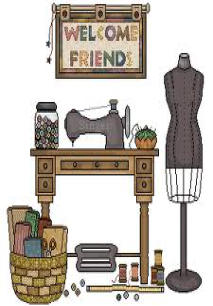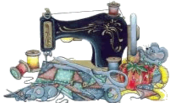 B
eginners to old pros alike can enjoy the variety and learn something
new, all while enjoying the fellowship with other sewers. At each
meeting we also share a delicious potluck lunch that sustains the sewing
energy!
T
ake a look through the website to see where the Sew Crazy sewers
have been and where they're going next. Or better yet, come join us at
our next meeting. We'd love to have you!
W
hether your passion is apparel, quilting, home dec, crafting or
any other fiber art, Sew Crazy has something for you -- and a
chance for you to give back to your community as well.
T
his diverse group of sewers meets monthly to learn, sew and
share their talents with each other and the community through
charity sewing projects. CASA, Crumley House, Wellmont Cancer
Center and Mountain Home VA are just a few of the local
organizations to receive donations from Sew Crazy.
Where Sewists of All Ages, Interests and Skill Levels are Welcome!